The Delta Group of Companies is a privately owned, versatile, integrated group of companies specializing in execution of complex infrastructure projects in the Power, Industrial, Infrastructure and Renewable Energy Sectors in India and abroad.
The Delta Group's core competencies are Design Engineering; Project Management & Turnkey Construction; Logistics Handling, Management & Consultancy services and project specific Procurement services. The Delta Group has also entered into collaborations with leading OEM manufacturers worldwide and exclusively Represent these companies and promote their cutting-edge technologies, products and services.
The strength of The Delta Group lies in its ability to effectively support and complement its activities across various business segments. We are the pioneers of "One Point Responsibility" concept in India and encourage leading EPC contractors and Project Developers to avail of multiple services offered under the umbrella of The Delta Group, as a customized single point solution rather than several separate services.
Over the past 30 years, it has been our privilege to be the preferred partner for some of the world's most reputed companies for their projects in India and abroad.
We endeavor to continue specializing, innovating, expanding and diversifying our services to meet the demands of the industries we serve as well as the demands of our clients and build on our hard earned reputation for quality and dedication towards excellence.
Reliability, efficiency and professionalism are qualities incorporated in the basic DNA of The Delta Group and we hope that we can be your reliable partner in the developing core sector.
The Delta Group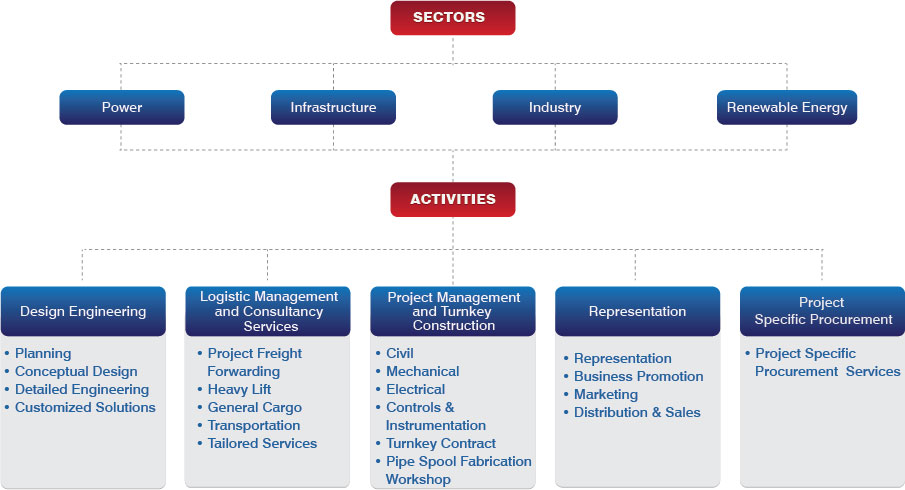 The Group Companies
The Delta Group's Projects in India and Overseas
History Timeline